International Freight Forwarding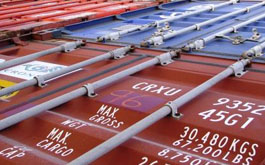 Shreenathji Worldwide Pvt. Ltd. provides forwarding and shipping services to its clients. It has an infrastructure enough to cater all requirements of shippers, importers and exporters by giving best freight rates through its service contract with various liners. Our association with major shipping lines helps us give forwarding services from each major port and dry port in India to worldwide locations. We link Kandla, Mundra to international destinations.
We have experience in providing international ocean freight forwarding services worldwide. We are an integral part of our shippers export/import departments, offering tailored ocean/sea freight supplying solutions for a wide range of cargos. With limited restrictions in the size and weight of the products, we give a full array of international ocean freight forwarding services like door to door obtain, advance tracking technology and managing shipping documents. We transfer the cargo information to the involved destination previous to the vessels arrival to supply timely unleash of the products once customs clearance.
With a large volume of international ocean freight forwarding services we provide the best rates to our shippers. We additionally give 24 X 7 client service. This helps in solving the queries of the shippers concerning entry, delivery, tracking and charge details of the cargo. In the entire process, our professionals stay in bit with the shippers and see to that that their shipments are delivered to the carrier and do reach their desired destination in stipulated time.
We are Equipped to Handle
Textiles and Garments
All type of Ceramic Industries related Cargo / Raw Materials
Ceramic Tiles
Steel and Forging
Computers, peripherals and electronic Components
Plant and Machinery
Project equipment, machines, spares and exhibits
Food Grains and Edible Materials
Confectionery Items
Stationary
Plastic Items
Automotive Lubricants.
Household Utensils
"Our main objective is to deliver excellent worth to our customers & additionally produce worth for our workers & society at giant." and provide unmatched worth through personalised, professional and innovative logistical management systems.