Vessel Handling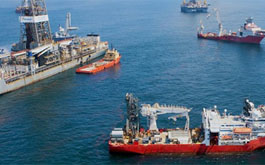 For Vessel Owners and Charterers who have their vessels calling on any Indian Port, Shreenathji Worldwide Pvt. Ltd. offers a comprehensive menu of vessel handling services. From handling heavy shipment to chartering shipment, from consultancy to broking, we cover all the processes related to vessel handling.
Shreenathji Worldwide Pvt. Ltd. is a reliable ship's agent with a 24/7 service and an extensive network of suppliers and service providers is vital to your operations. We can fulfill all of your vessel's requirements during a port call in almost every indian port with operation base in kandla. Our dedicated team of experienced ship's agents can guarantee a smooth port call.
Shreenathji Worldwide Pvt. Ltd. possess the experience, strength and reliability to ensure vessel operations run efficiently and cost-effectively in any port within India, to ensure this, we give our clients the best possible service. We operate a network of local agency offices whose professional staff are able to attend a vessel anywhere and at anytime. Our Agency Coordinator is always on hand to ensure that the needs of each and every vessel are met as quickly as possible whilst ensuring that the standard of service we offer is second to none.
Berth arrangement & pilot booking
Pre-arrival notifications to port authorities
Custom's clearance of vessel and cargo/project equipment
Immigration formalities
Crew changes, including visa formalities, meet & greet at the airport, transport to the ship and hotel accommodation
Stevedoring
Lashing & securing, welding including fire watchers
Forwarding
Stores & provision
Waste disposal, including sludge and specialwaste
Gangway security including security cabin
At Shreenathji Worldwide Pvt. Ltd. we know that as an owner and operator of sea-going vessels, the most costly and inefficient part of any voyage is the time lost in port. At Surya Shiptrans Corporation have the strength and reliability to ensure a quick and smooth turn-around. Our goal is to ensure that vessels under our care receive not just the best husbandry services available, but that we do everything needed to help our clients get back to sea as quickly as possible. We are able to appreciate the benefits of ensuring our clients receive regular concise and accurate reports on the status of their vessels whilst under our care.