Stevedoring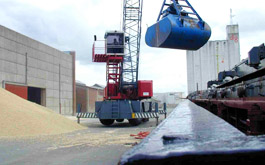 By virtue of its strong local relationships and huge cargo volumes handled Shreenathji WorldWide Pvt. Ltd. is in a position to negotiate cost effective deals for its principals and propose the most reliable and efficient stevedoring companies for smooth and fast cargo work. We offer Stevedoring Services throughout India.
We are in keen touch with well established Stevedoring companies that possess technological equipment and ensure high quality handling. The company also has a panel of approved survey companies to render tally and supervision services in order to avoid claims and disputes.
Be it a over side barge operation at the General cum bulk cargo berth at Kandla/Mundra, or timber logs handling in the inner/outer harbour, or coal lightering and complete discharge in record time, or handling of containers including stuffing and de-stuffing matching the schedules of liner vessels, or anchorage operation of food grains export at the Kandla/Mundra Port, whatever the operation may be, we have left an indelible impression of operational efficiency and imprints of quality and commitment towards work, and titans of the industry both in public and private sector or our principals over a period of years.
Shreenathji Worldwide Pvt. Ltd. is a complete logistic solutions providing company, technology and operational solutions in the transport / logistics space in India. We has immense experience generated by its experienced set of industry professionals combined with its focused service / solution offerings in this domain. We deliver on our promises with day-to-day activities that represent value for money, quality, continuity, innovation and maximum reach, offering services in surface transportation, warehousing and project Cargo management.